Staff & Volunteers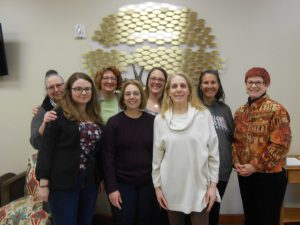 Elyse Banak
My name is Elyse Banak and I am one of the Dalet Teachers. I have been teaching at TBT for 17 years.  Through my years at TBT, I have taught Bet, Dalet, Hay, Vov and Zayin!  I also tutor for B'nai Mitzvah and I play flute at Shir Shabbat.
In my other life, I have a degree in Electrical Engineering, and worked as an engineer for 15 years in CT.  When we moved to Massachusetts, I started teaching and tutoring math and science.  I now teach math and science at a private boarding high school in Natick.  I enjoy tutoring all math and science high school classes privately.
I have three children who attended Temple Beth Torah's Religious School  and they each had their Bat Mitzvah at TBT.  My oldest daughter is now working in retail, my middle daughter is a chemical engineer and my youngest daughter is working at a tutoring center and records music (ask me about her stage name and you could listen to her music!).
I have enjoyed teaching at TBT and like the warm community that it offers!
Charli Bernstein
My name is Charli Bernstein and I have been a member of Temple Beth Torah for over 27 years. In 2005, I began tutoring B'nai Mitzvah students. Starting in 2009, I began teaching the 6th grade students and for several years, also taught the 2nd grade. I am currently serving as co-chair of the Ritual Committee.
My education philosophy is to provide students with a solid foundation in Judaism; to teach our history, traditions and prayer texts and to understand the meaning of Jewish identity while helping them determine what being Jewish means to them.
Watching the students grow, develop relationships and share their thoughts and opinions brings me great pride. There is nothing more satisfying than seeing our students be called to the Torah and become a Bar/Bat Mitzvah.
Laurie Canning
My name is Laurie Canning and I am the Gimel Teacher. I have been teaching at TBT for 20 years and have loved every minute of it!  I teach using discussion, games, fun, as well as hands on activities to try to appeal to all students' learning styles and strengths. I have also taught Bet, Dalet, Hay and Zayin, and was the Youth Director for many years as well.
I have a BA from Tufts University in Child Psychology and French, and a Master's in Elementary Education from Lesley University. I also enjoy teaching French at the Ben Franklin Classical Charter School in Franklin and have been working there for 23 years.
I have three children who attended Temple Beth Torah's Religious School and recently my two youngest had their B'nai Mitzvah together which was amazing. My eldest Connor is currently serving in the U.S. Air Force, my son Joshua is in 9th grade at King Philip High School and my youngest Missy is in 8th grade at King Philip Middle School.
Interestingly, I also had my Bat Mitzvah at Temple Beth Torah and grew up in Holliston.  I have always been a member of the temple and I wanted my children to have the same wonderful experience I did.  It is a close knit group of people with a warm, welcoming community and I have greatly enjoyed my long history being a part of this temple!
Beth Ecker
My name is Beth Ecker. My husband Dan and I have been members of Temple Beth Torah for 28 years.  I have been teaching at TBT for 13 years.  I taught in the nursery school a few years, then when Torah Tots began, I taught that class, then the Aleph class and now I teach the Bet class.
When I am not at TBT, I teach pre-school in Sherborn and I have been there for 13 years.  I have 3 children, who all attended the religious school and were Bar and Bat Mitzvah here at TBT. My son, Max was in the first preschool class at Temple Beth Torah.
I believe every child should have a basic foundation to Judaism.  I bring my sister and brother who live in Israel into my lessons and try to provide a personal experience of Israel for my students.  I think children should learn about our traditions.  I help children to see how their family celebrates and honors the traditions and values, and that each family may do this in a different way, but we all are part of the Jewish people.  I like my students to know how special it is to be Jewish.  My father was a holocaust survivor and Judaism has always been a big part of my life and I get joy from sharing stories with my students.
Jane Kohuth
My name is Jane Kohuth and I teach the Hey class. My family joined Temple Beth Torah in 2017, and my son Kameron Stepansky is in the Gan/Aleph class. I grew up in Brooklyn, NY, where I graduated from the same Hebrew School as Supreme Court Justice Ruth Bader Ginsberg! I am a graduate of Brandeis University, where I studied English and Creative Writing, Jewish Studies, and Women's Studies. I have a master's degree in Theological Studies from Harvard Divinity School, where I focused on women in religion and Jewish history. I've taught various Hebrew School grades in a number of synagogues over the years, and spent two years as the Assistant Director of Education at a congregation in Northern Virginia. I've loved coming back to teaching Jewish subjects again, and am very much enjoying creating a Jewish history focused curriculum for the fifth grade.
I am also a children's book author. I've published five books for young children, including three books with Jewish themes. My picture books Estie the Mensch and Who's Got the Etrog? are both PJ Library books, so you may have received them in the mail at some point! My early reader Anne Frank's Chestnut Tree was a National Council of Social Studies Notable Trade Book for Young People. I visit classrooms in person and via video chat to teach writing workshops and have also taught creative writing classes for children and adults.
My family has found Temple Beth Torah to be warm and welcoming, and I am enjoying getting to know the community — in particular the kids, who are bright and curious and up for an intellectual challenge!
Rachel Morganstern
My name is Rachel Morgenstern and I teach the Torah Tots class at TBT.  I love working with young kids and their families, exploring the Jewish culture and holidays, and helping them to start their own family traditions.
My family and I have been members of TBT for about 10 years.  I have been married to my husband Joel for 16 years.  We have two daughters, Lila, age 13, and Zoe, age 11.  Lila began attending TBT when she was 3 in the Torah Tots program. She had her Bat Mitzvah in October 2018 and is currently attending the 7th grade class with Rabbi Steve.  Zoe is in 5th grade and is looking forward to her Bat Mitzvah in a few years.
I have a Master's degree in Intercultural Relations from Lesley University and a Master's degree in Speech and Language Pathology from Emerson College.  I have worked as an SLP with all ages ranging from Early Intervention (children birth through 3 years old), to Nursing homes to schools, specializing in the areas of feeding therapy, Augmentative and Alternative Communication, as well as general language acquisition.
I love connecting with children at this young age and getting them excited about Jewish culture and the Hebrew language, all while having fun!
Karen Swartz
My name is Karen Swartz and I teach Gan/Aleph and Dalet at Temple Beth Torah.  I have been a teacher here for 19 years.  My parents were founders of Temple Beth Torah and I grew up here with my family.  In fact I was in the very first Gan class, then called Torah Tots!  I am passionate about teaching and love seeing my students thrive and enjoy our study of Hebrew, holidays and traditions.
I work at Hasbro Children's Hospital in Providence, Rhode Island as a Certified Child Life Specialist.  At Hasbro, I cover Pediatric Gastroenterology, Cystic Fibrosis, Asthma/Allergy Clinics and Pediatric Sedation. I am the co-coordinator of IBD patient education group and volunteer as part of the medical team at CCF Camp Oasis. In addition, I am a member of the Medical Board of Advisors for Team IMPACT, and a Certified Educator of Infant Massage. I received both my Bachelor's and Master's Degrees from Wheelock College: a BS in Human Development with a concentration in Child Life and a MS in Child Life and Family-Centered Care.