Israel Action
The Israel Action Committee (IAC) meets monthly and seeks to educate our families to help them reconnect with modern Israel. We do this by deepening our congregants' relationships to Israel through programs that directly impact each of our lives through these initiatives:
Learning About Israel
The IAC will inform the congregation about Israeli current events, support of Israel, and promote programs that foster lifelong learning about Israel including Israeli culture, spiritual life, politics, Israeli products and Israeli entertainment.
Passport to Israel Program
The Myra and Robert Kraft Passport to Israel program is a unique savings plan to help parents send their children on a life-changing experience to Israel. The program is designed so that the community, the synagogue and CJP help families make a trip to Israel possible during the high school years a reality.
The IAC seeks to have 80% of eligible families participate in the Myra and Robert Kraft Passport to Israel program that promotes teen experiences in Israel, and encourages incorporating Passport to Israel into B'nai Mitzvah celebrations and gift giving.
Learn more about this unique savings plan, supported by TBT and CJP, to help fund a trip to Israel.
For more information, click here.
TBT–Haifa Connection. Kehillat Moriah in Haifa
The Israel Action Committee has been working to build a deep relationship with the Masorti (Conservative) Moriah Congregation in Haifa. Skype sessions between the schools at TBT and Kehillat Moriah have become part of the curricula to encourage our congregants to participate and form closer personal bonds with families in Haifa. TBT members are always welcome to Kehillat Moriah during their visits to Israel. Please consider also becoming an honorary member of Kehillat Moriah
Go Israel
The Israel Action Committee provides information and offers events that encourage and assist congregants of all ages to travel to Israel through individual trips, sponsored groups, and trips organized through the Congregation.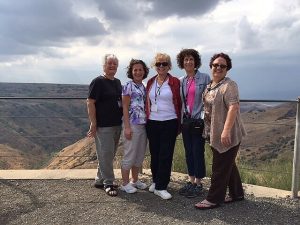 Travel to Israel
Interested in traveling to Israel? Bewildered by the cost and complexity? Intimidated by language? Israel is a safe and welcoming place to visit, and there are many cost effective options for you and your family!
CJP: Israel Teen Travel
Conservative Movement Programs to Israel
Israel Youth Hostel Association