Committees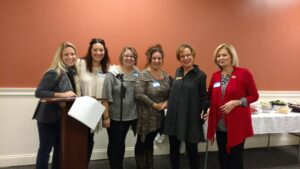 Participate in a Committee! Committees, working groups, and volunteer efforts are the backbone of Temple Beth Torah activities. By partnering with the clergy and staff, volunteers amplify everything that happens at Temple Beth Torah. Some traditional committees have evolved to meet our changing congregational needs; new committees also arise in response to member interests. If you feel like getting involved and forming new connections, take the first step here by reaching out by letting us know.
B'nai Mitzvah – We provide support to families in all aspects of planning and preparing for their child's B'nai Mitzvah.
Brotherhood – We are an active group that combines social activities as well as coming together on Synagogue projects.  We are inclusive and invite you to participate. Please contact Brett Feldman, Brotherhood Chair at (617) 947-8200 or feldjamin@hotmail.com.
Early Childhood – We contribute to the development of programs for our youngest children and we encourage meeting with new prospective member families.
Community Relations – We share Temple Beth Torah and community news, events and announcements through social media, local newspapers, online outlets and other publicity.
Education – The Education Committee at Temple Beth Torah is a vibrant group of volunteers who are invested in the success of the Religious School. Committee members discuss curriculum, plan family and community events and serve as liaisons to parents. The group is always striving to enhance the educational and social experiences of students and families. Reflection on past programs and brainstorming of innovative ideas are an essential part of the monthly meetings. All are welcome to participate in this very vital committee.
Facilities – We keep our building and grounds in tip top shape.
Finance – Our Finance Committee proposes a yearly budget for vote at the Annual Meeting, then monitors activity against the budget during the year.  Finance Committee members will also sit on other committees when requested to discuss matters of finance.
Fundraising – We plan and run activities that raise money for our Temple. These activities are great social events and help keep our Temple dues as low as possible.
Israel Action – The Israel Action Committee (IAC) meets monthly and seeks to educate our families to help them to connect with modern Israel. We do this by deepening our congregants' relationships to Israel through programs that directly impact each of our lives.
The IAC will inform the congregation about Israeli current events, support of Israel, and promote programs that foster lifelong learning about Israel including Israeli culture, spiritual life, political affairs and Israeli entertainment.
The Myra and Robert Kraft Passport to Israel Program is a unique savings plan to help parents send their children on a life-changing experience to Israel.  The program is designed so that our temple and CJP help families make a trip to Israel a reality for their children during the high school years. New IAC members are welcome, Please contact Barbara Kutner, manitoba11@verizon.net.
Membership – We welcome new members, introduce TBT to  prospective members, keep a pulse on membership retention,  work to build community and help members connect with each other through Temple Beth Torah activities/programs.
Ritual – Our committee works in conjunction with the Rabbi to provide spiritual and meaningful weekly services and special services such as Purim, Passover, Simchat Torah and the High Holidays.  We provide support to B'nai Mitzvah families and the B'nai Mitzvah chair.  We provide gabbiem for services, Torah readers and the chanting of Haftorah. We have run a class to learn how to be a Gabbi and plan on providing classes for learning how to chant from the Torah and how to lead specific parts of a service.  We encourage congregants to come and join us as we support the Synagogue!
Tikkun Olam – Tikkun Olam (Repair of the World) is an important value of the Temple Beth Torah community.  We strive to integrate both Tzdekah and Tikkun Olam into our religious school, our Temple activities and our community work.  Our children collect Tzdekah every Sunday and select charities in which to donate the money.  Our Temple members have contributed needed food and other services to the Family Table Program, Holliston Food Pantry and Project Just Because. We also participate in the Community Supper the first Sunday of each month in Milford and support Family Promise, an organization that helps homeless families get back on their feet. In addition, our B'nai Mitzvah candidates do a Mitzvah Project.
Since 2006 Temple Beth Torah members have participated in "Mitzvah" activities throughout the year. We orchestrate monthly Mitzvot for the community to partake in- cold weather drives, canned good drives, support the Jewish National Fund, and much more! During Temple events we have packed snacks for students in need, built packages for homeless individuals and cooked meals for a local shelter. We have partnered with various organizations. For example, we have hosted an annual blood drive with Mass General Hospital, collaborated with Holiday Dreams to purchase holiday gifts for children in need, and collected items for Thanksgiving baskets that were distributed by the Holliston Newcomers Club.
Youth – Our youth programming assists with keeping our pre-teens and teens involved in Jewish life through social and informal learning programs.