Religious School
Welcome to the Morris Nirenberg Religious School!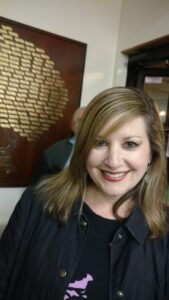 My name is Nicole Glick, but everyone calls me Nikki. I am thrilled to serve as the Education Department Director at Temple Beth Torah for the 2022-2023 academic year! For several years, I supported the Religious School in my role as School Coordinator and Education Chair on the Board of Directors. Prior to that, I was a member of the Education Committee for several years. Throughout my time as Education Chair and as a member of the committee, I greatly enjoyed contributing to the operations of the school as well as creating programming for our students and their families. Additionally, I was fortunate to have had the opportunity to help out in some of the classrooms both in person and virtually. These experiences have allowed me to get to know the students and their families in a different capacity which has been incredibly rewarding.
The rich curriculum along with the strong sense of community at TBT supports our students in developing their Jewish identities. It is important that our children gain a greater understanding of who they are and the history and tradition that brought them here. We are incredibly privileged to have the most dedicated, caring teachers who share this purpose. Our tight-knit group allows for close relationships to be fostered between our students and our educators. Another important aspiration in my role as Education Department Director is to strengthen the connections between students and families within the school as well as with the greater TBT community. These objectives would not be attainable without the support and collaboration of our teachers, Rabbi Mimi, our staff, our members and our volunteers.
I truly believe that the Religious School is the future at TBT. We must strengthen our education and programming for our children and their families in order to ensure that TBT is a presence in our community for many years to come. I am grateful to be a part of such a caring and passionate Religious School team and look forward to continuing to provide a meaningful Jewish education.  Please email me at nicole.glick@bethtorah.org with any questions.