Clergy
Rabbi Mimi Micner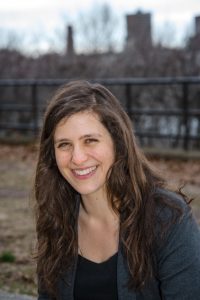 Rabbi Mimi grew up in Vancouver, British Columbia. She grew up in a family of immigrants. Her mother's family is from Chile, and they moved to Israel and then Canada just before the Chilean dictatorship. They were secular Jews involved in progressive Zionist youth movements, and brought together a commitment to Israel with a commitment to justice and equality. Her father's family are Holocaust survivors from Poland, who came to Canada alongside many other European Jews hoping to heal and start anew. Their greatest joy and hope lay in future generations. In these ways, her family exemplifies the story of the Jewish people.
Rabbi Mimi was raised both in the institutions of the Jewish community and in the broader Vancouver community. She attended a Conservative synagogue and Jewish day school in her early years, and went to a racially diverse private high school. Her family background and experiences growing up in Vancouver gifted her a heart that draws towards Jewish community, history, and wisdom as well as justice and equality for all people.
Rabbi Mimi moved to the United States to attend Middlebury College in Vermont. There, she studied political science, helped run the student-run restaurant, and spent a semester living in India. She also studied Judaism, and became actively involved in building Jewish community through Hillel. It was her first experience of building Jewish community, as well as her first experience of spiritual curiosity. It was there that she began to think about the Rabbinate.
After college, Rabbi Mimi worked as a community organizer, organizing early childhood educators and then college students through J Street U. As her spiritual curiosity blossomed into yearning for deeper Jewish wisdom and experience, she decided to go to Rabbinical School, hoping to forge a path ahead that allowed her to do work rooted in Jewish wisdom, compassionate care, and social justice.
During Rabbinical School, Rabbi Mimi continued the work of Jewish community building, deepening spiritual practice, and social justice and healing. She served college students at Tufts and Brown Hillel. She worked with the Inside Out Wisdom and Action Project, which integrates Jewish spirituality with social justice activism, as well as with Keshet. She also served the Temple Tifereth Israel community in Winthrop. In all these contexts, she brought an accessible and spiritually-rich approach to teaching, prayer, and community building.
Rabbi Mimi is married to Dr. Talia Lewis, and they live together in Watertown.
You can contact Rabbi Mimi at: Rabbi@bethtorah.org.